Blackberries And Blackberry Juice
Blackberry juice is not only delicious but is also good for you. The health benefits and medicinal uses are numerous and may be just what you are looking for if you suffer from certain ailments.
Blackberries – The Fruit This Juice Is Made Of
Rubus fructicosus is the formal name for the blackberry, and there are over 40 species. Although it is difficult to trace the origin, history shows that Romans and Greeks used this fruit as medicine. European villages used blackberry bushes to protect against large animals and enemies. Native Americans made use of blackberries for medicine, food, for coloring animal skins, and to make twine from the canes and vines. The first United States Botanical Garden was founded in 1728. In 1880 blackberry breeding began in California. Amazingly, blackberries grow on every continent except Antarctica and Australia. A new Triple Crown blackberry has been approved by the USDA and is a thornless berry with a sweet taste.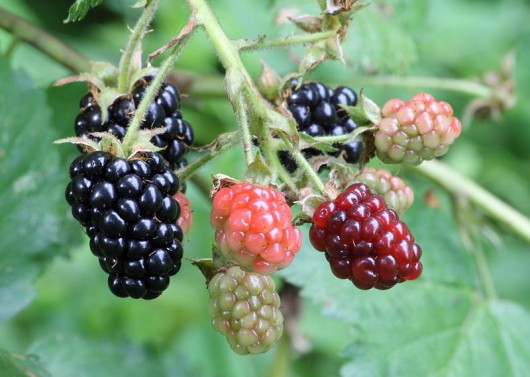 About Blackberry Juice
Plump blackberries make a wine-like tasty juice. For a quart of blackberry juice, it will take approximately three and a half pounds of berries. The juice can be used in jams and jellies, in pies along with the whole fruit, added to tea or lemonade or carbonated water for refreshing drinks, be an ingredient in smoothies, added to homemade ice cream, used in cooking and marinating, or to make cordials and wine.
Health Benefits of Blackberry Juice
The many health benefits of blackberry juice have extended back thousands of years. It was used to treat fever and bowel problems for more than 2,000 years. Additional illnesses believed to be cured by blackberries are ulcers, whooping cough, gout, stomach problems, diarrhea, nausea, sore throat, and venomous creature bites.
Blackberries are rich in vitamins such as A and C, have cancer-fighting antioxidants, and have minerals such as potassium, calcium, phosphorus, and iron. They also fight aging, protect eyesight, reduce cholesterol, fight heart disease, and strengthen blood vessels.
Making Your Own Blackberry Juice
Pick a firm, bright, dark berry for the sweetest flavor. Use the berries as soon as possible, but while you wait, put the berries in containers or plastic zippered bags and squeeze out as much air as you can.
There are many recipes for making blackberry juice, but the easiest method takes only ten minutes of preparation time and eight minutes of cooking time. You can also substitute two 16-ounce packages of thawed frozen blackberries if fresh berries are not available. To make two cups of juice, use two quarts of fresh cleaned blackberries and 1/2 cup water. Bring to a boil in a three-quart saucepan. Reduce heat. Simmer for five minutes or until the blackberries are soft. Mash blackberries with a fork or potato masher. Pour through a large strainer into a bowl. Use the back of a spoon to squeeze out the juice. Discard the seeds and pulp. Sweeten with sugar or honey to taste.
More Articles On Blackberries And Blackberry Juice
Blackberry Juice Side Effects – Can You Drink Too Much Of It? There has not been enough research to sufficiently determine whether or not the medicinal use of blackberry juice might have side effects. However, blackberry juice used at levels consistent with typical food and drink portions is currently considered completely safe. At the time of this writing, the only known blackberry juice side effects that should cause ...
Blackberry Nutrition Facts Blackberry Nutrition Facts Betaine 0,3 mg Calcium 29 mg Calories 43 Calories Carbohydrate 10,2 g Carotene-a 0 mcg Carotene-ß 128 mcg Choline 8,5 mg Copper 0,2 mg Dietary Fiber 5,3 g Fluoride 0 mcg Folate 25 mcg Iron 0,6 mg Lutein-zeaxanthin 118 mcg Lycopene  mcg Magnesium 20 mg Manganese 0,6 mg Niacine 0,6 mg Oxygen Radical Absorbance Capacity (ORAC) 5347 µ mol TE Pantothenic Acid 0,3 mg Phosphorus 22 mg Phytonutrients 246 mcg Potassium 162 mg Protein 1,4 ...
The Many Health Benefits of Blackberry Juice Blackberries are not only delicious but they also offer a multitude of health benefits for the health conscious consumer. These small dark berries offer a variety of vitamins and nutrients that can help to boost your energy levels in addition to a host of other nutritional benefits. A great way to enjoy these benefits is ...